As your medical practice grows, you'll find yourself in a position where you can't handle all of your customer's calls. This is a good thing, but it can be stressful figuring out what kind of outsource call center is ideal for handling your precious patients.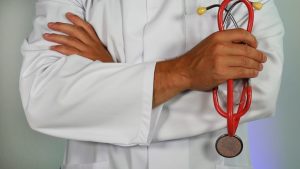 Medical data differs heavily from other sorts of information because it is so private. You need to make sure that the call center you choose holds the dignity and privacy of your patients in the highest esteem. That's why it's always best to find an outsource call center that sees itself as more of a partner than a vendor. They'll be fully invested in the success of your practice and sensitive to the needs of your patients. (v)WeCare values partnership over transactional information, which is why we are voluntarily HIPPA complient for the ease and security of our medical partners. Our reps understand the importance of sensitive medical data, and always treat it with the respect that it deserves!
Look For A US-Based Outsource Center
There are plenty of awesome overseas outsourcing centers, but when it comes to your medical practice, it's best to look locally. There is a simple reason for this; US-based outsource centers will have a better understanding of local information, American medical terminology and the healthcare system as a whole. Your patients do not want to give overseas reps a primer on the way that the healthcare system works. They simply want to talk to someone who understands the ins and outs and can help them.
(v)WeCare has several US-based outsource centers under its wing, and has been operational since 1999. We are locally based and ready to serve local medical providers. Our reps have the compassion and background to be able to communicate effectively and fluently with your patients so that they can get the care they deserve.
Make Security A Top Priority
Security must be the top priority of the outsource call center that you choose. When you're dealing with private medical information, no missteps can be tolerated. Call centers that are sloppy with their security simply do not make good partners for medical practices. If you want to avoid a nightmarish situation where a patient's medical data is compromised, it's important to choose your partner wisely. You'll sleep better at night, and so will your patients!
(v)WeCare treats security seriously. We have a 24/7 monitoring system to make sure that there are no data breaches. Additionally, we restrict the admin rights and internet usage of our reps, so they can only access what they absolutely are able to. We've also modified all computers in our facilities so they are not compatible with USB drives. No private information will be leaked under our watch!
Work With An Outsourcer That Trains Their Reps Properly
Properly trained reps are a must in every call center, but it's even more important to have compassionate, knowledgeable reps when you're dealing with people's medical information or questions. Since healthcare is such an intensely private thing, the outsource call center that you choose should take major steps to make sure that they are empathetic, attentive and able to answer customer queries in a flash. Poorly trained reps can make or break your medical practice and contribute to the loss of your patients. Even worse, reps who give incorrect information or go off-script can lead to legal trouble. Choose wisely!
All of the reps at (v)WeCare are fully trained and constantly monitored to ensure that they are giving callers the best service possible. We emphasise the need for empathy, patience and total professionalism. They are empowered to make decisions and our project managers are always available to ensure that things are running smoothly. We train our project managers on multiple fronts, so they are able to give guidance and redirect the reps if need be. Each call is important to us!
When your medical practice needs to find an outsource call center, it pays to be picky! Look for partners, not vendors, and find a company that can cater to the specialized needs of your patients. By following these three simple mandates you will be able to serve your patients even better than before!