Call center services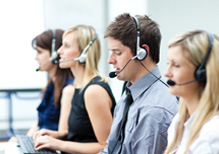 Call Centers Operations provides call center outsourcing services using an end-to-end CISCO based IP network. We have offices in United States and India. Our globally presence allows us to understand the requirements of our clients in the right perspective and enables us to deliver personalized and business-oriented call center services to them.

Since our Inception we have been providing BPO services, KPO services and IT support services to organizations from varying business domains. With the changing market scenario, we have also grown beyond a traditional contact center and are fully capable of communicating with your customers through whatever medium they choose.