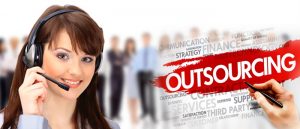 It can be difficult for a growing business to justify adding new costs to the bottom line, especially when it seems like you could do the task or like the job could just be added to an employee's list of responsibilities. The growing business is a space where employees wear many 'hats' and responsibility means opportunity. But outsourcing customer service is a natural part of company evolution.
You'll know you're ready to outsource when responding to customer inquiries becomes a distraction rather than an opportunity. How many times do you need to hear about an issue before you are engaged in solving that issue? The chef can't cook the food if they're taking orders at the table. Let dedicated customer service reps handle complaints and inquiries to problems while you are busy devising solutions!
Do you want to help your customers, but feel bogged down in the details of communications platforms? We can handle all chat, social media, web, and old-fashioned phone inquiries. What's worse – a customer who has a problem? Or a customer who has a problem COMMUNICATING about their problem? Trustworthy connectivity with dedicated, experienced professionals is another reason to outsource. Don't sweat the small stuff – let us handle communication infrastructure with your customers!
You also don't want the rockstar employees who have helped grow your business to answer intermittent inquiries. You want your top employees focused on bringing in new business and advancing new projects. This is where a dedicated customer service outsourcing solution can come in and free up your core people to focus on long-term growth.
It's hard for a growing business, where everybody wants to do everything, to trust an outsider with their customers, but training dedicated reps can build that trust. When the phone starts ringing off the hook, it's time to look for a dedicated solution to customer inquiries. We're here for you because we care!